MARKETING & TECHNOLOGY WEBINAR
Go Digital or Die:

A Webinar for Baby Boomer Business Owners
Struggling to adapt in today's digital business landscape? Don't panic. Inside this free webinar series you will learn from two baby boomer business owners, Kristin and Frank, who have ran successful digitally centric companies for over 30 years.
GET FREE INSTANT ACCESS TO THE ENTIRE WEBINAR SERIES
HOW CAN YOUR COMPANY GENERATE MORE REVENUE THAN EVER BEFORE?
Go Digital. What does that involve? And how can you — baby boomer business owners — understand and take advantage of 21st century technology?
You've built a successful business. But something unexpected (and unwelcome) is happening – rapid tech advancements are putting you at a disadvantage. The whole business world has gone digital.
Only the digitally savvy will survive.
Kristin Zhivago and Frank Zinghini, who have both been on the bleeding edge of digital since the early days, understand your situation – and have helped literally hundreds of companies make what is now often referred to as "digital transformation." Kristin is a revenue coach, who focuses on marketing, sales, and leadership; Frank specializes in application development and is the CEO of two application dev companies and a software security testing company.
These videos contain all of the information you need to understand and manage the digital world in which you now operate. The webinars cover:
The basics of the digital environment
Why your app is your business and vice-versa, and what to do about it
Marketing in our digital age
How to manage developers (sites and apps)
Pitfalls and how to avoid them
What you really need to know – and when to hire specialists
Each webinar is about an hour, which may seem like a lot, but you'll learn more in an hour – from a company leader perspective – than you would attending dozens of specialist-level classes.
or get a 100% risk-free consulting call.
Discover the exact strategies we have used for more than 30 years to adapt and thrive in an ever-changing digital business landscape.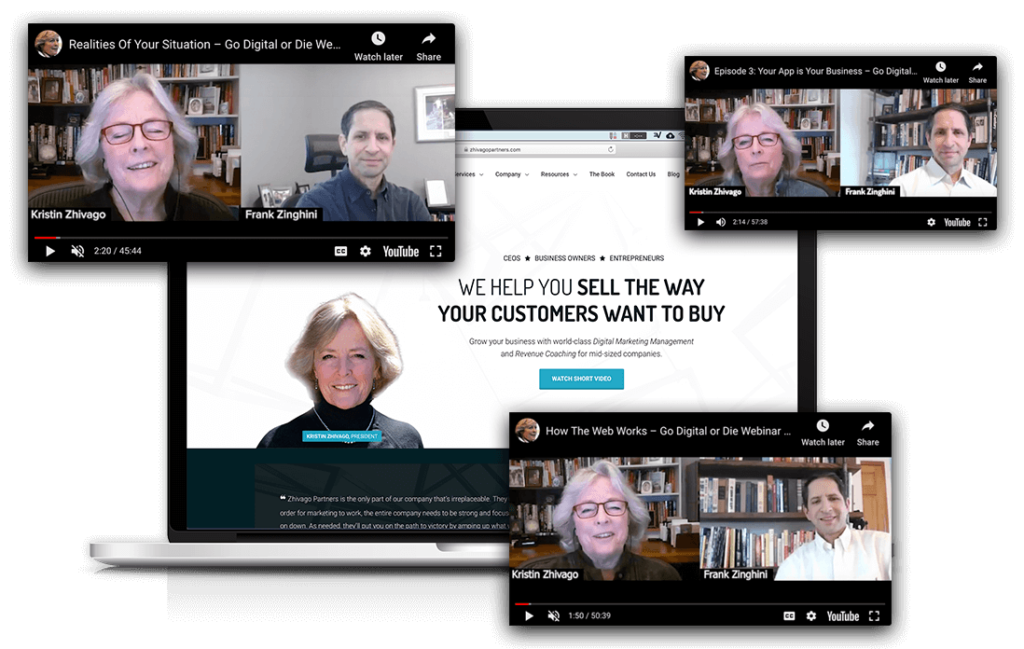 THIS CAN BE APPLIED TO VIRTUALLY ANY MARKET:
Retail and eCommerce

Software / SaaS
Manufacturing
Tech Companies B2B / B2C Services