When marketing works, it's a beautiful thing. We work hard every day to make it happen, for all of our clients.
When you are looking for a digital marketing agency, the most important characteristic is their desire and ability to keep seeking the best way to increase your revenue. Kristin Zhivago's experience as a revenue coach, where she did a number of marketing and sales department turnarounds, taught her that there is no such thing as a "one tool for all" approach.
Every company is different. Its managers, employees, processes, passion, products and services are all different from each other. And, more importantly, their buyers—those who actually ended up buying the product or service—had a unique Mindset when they set out to buy. When they do buy from you, it's because you had something that they wanted, something that your competitors didn't or couldn't offer.
Our daily goal is to understand that Mindset and do everything we can to leverage it for our clients. Appealing to that Mindset with the right promises (and keeping those promises) is where steady, bankable growth comes from.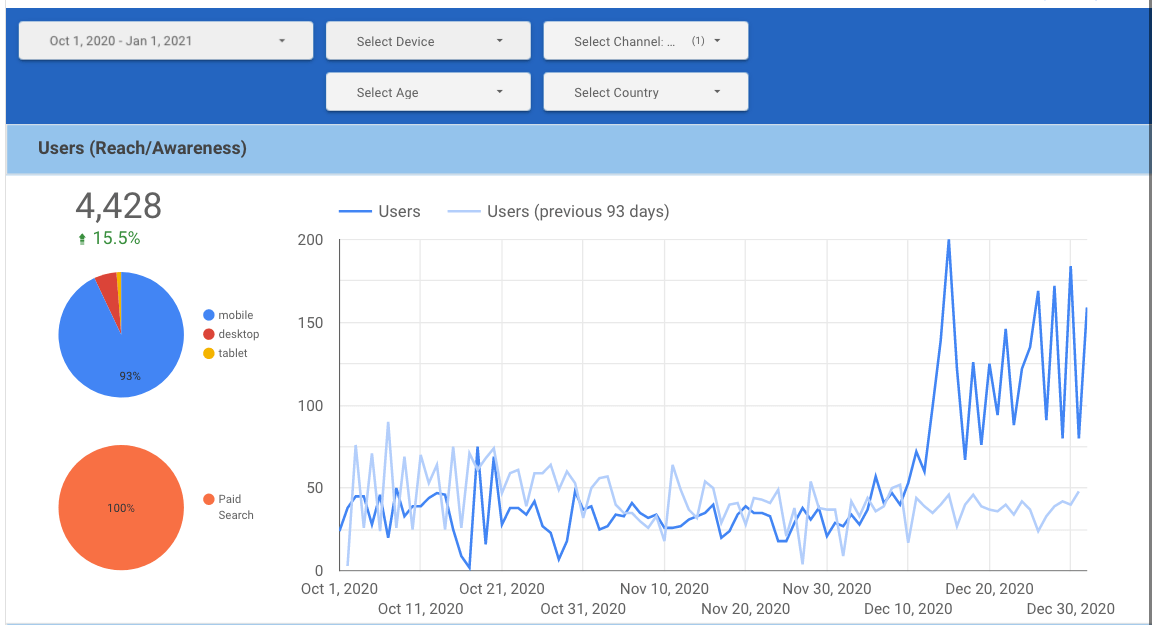 Unique (New) Website Visitors
Company Type: High-end B2C
Our client offers a travel-related service to high-end customers. As you can guess, her business was severely impacted by the worldwide pandemic. A Google Search campaign brought in a steady number of customers, but a newly designed remarketing campaign—where we advertised to people who had already visited her site—resulted in a serious uptick in leads. She's very happy.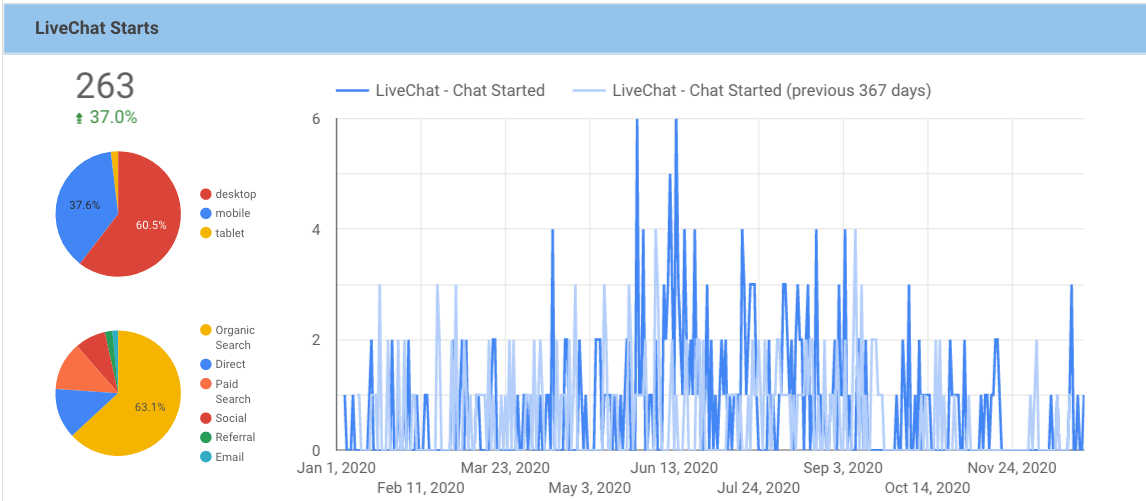 Company Type: High-end B2C
Chat is more important than ever. Customers have come to expect it. So we do everything we can to encourage those conversations, which gives our client the ability to engage in a one-on-one conversation with a potential client, who is already interested enough to engage. Over the course of 2020, even with the travel restrictions imposed by the pandemic, this client was able to chat with 263 very interested prospects.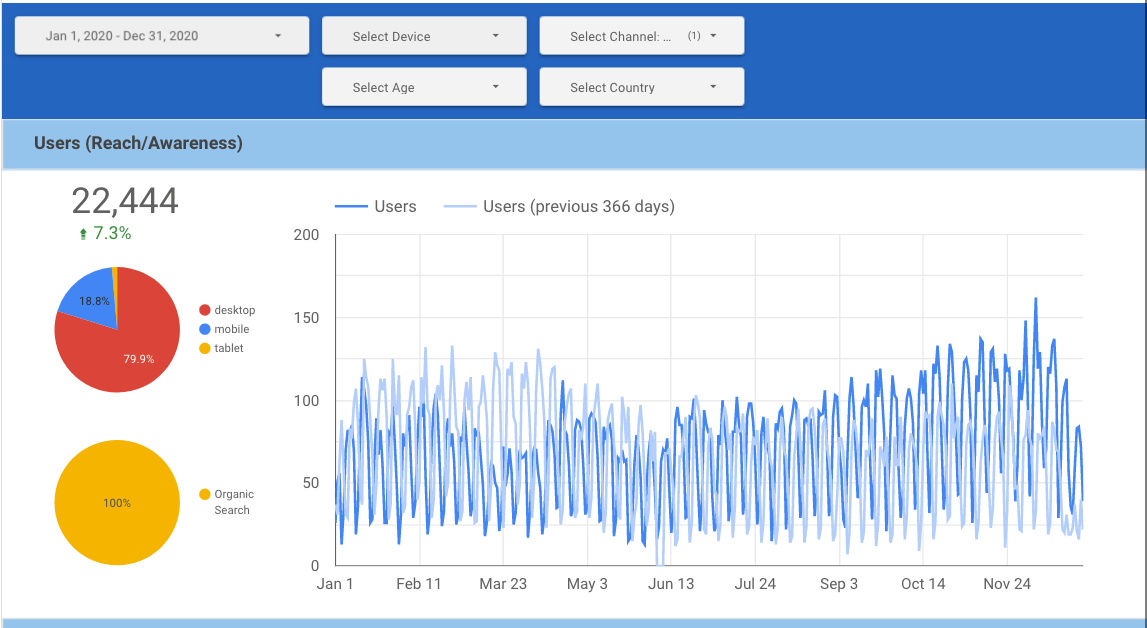 Unique (New) Website Visitors
Company Type: B2B, equipment company, IT industry
This client sells equipment into data centers. The goal has been to steadily increase traffic and conversions through a variety of methods. The online ad campaign alone brought 22,444 new visitors to the website over the course of 2020.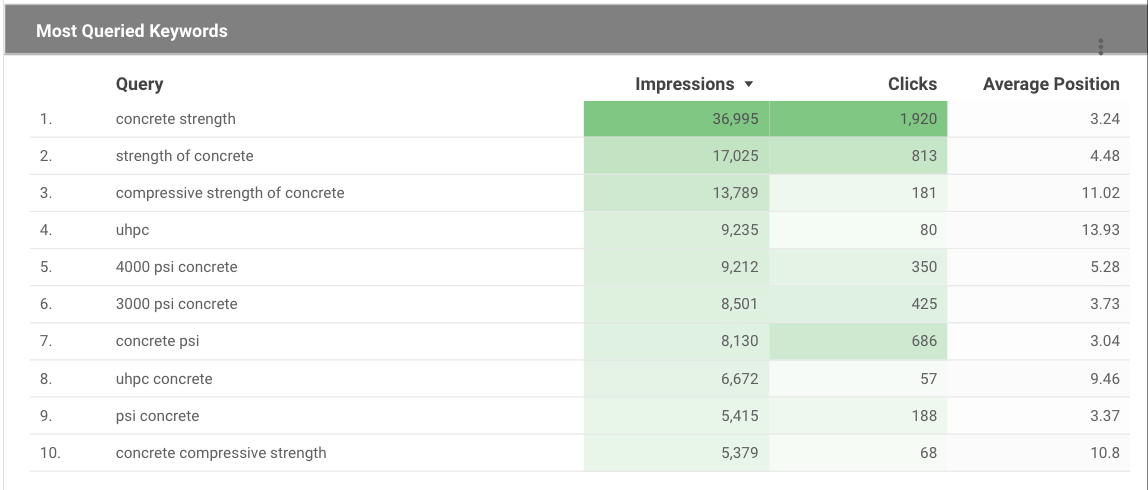 Company Type: B2B, materials producer, construction industry
Strong content leads to strong positions in Google rankings. "Average Position" here lists where our client appears in the search engine results. Anything between 1 – 10 is page one.
Company Type: High-end B2C
Our client offering high-end travel-related services is also seeing a healthy uptick in unpaid, organic search traffic coming to her blogs over all of 2020. Our agency excels in blog and page content that is driven by deep SEO keyword and competitive research. It's literally a content machine that keeps new traffic flowing in.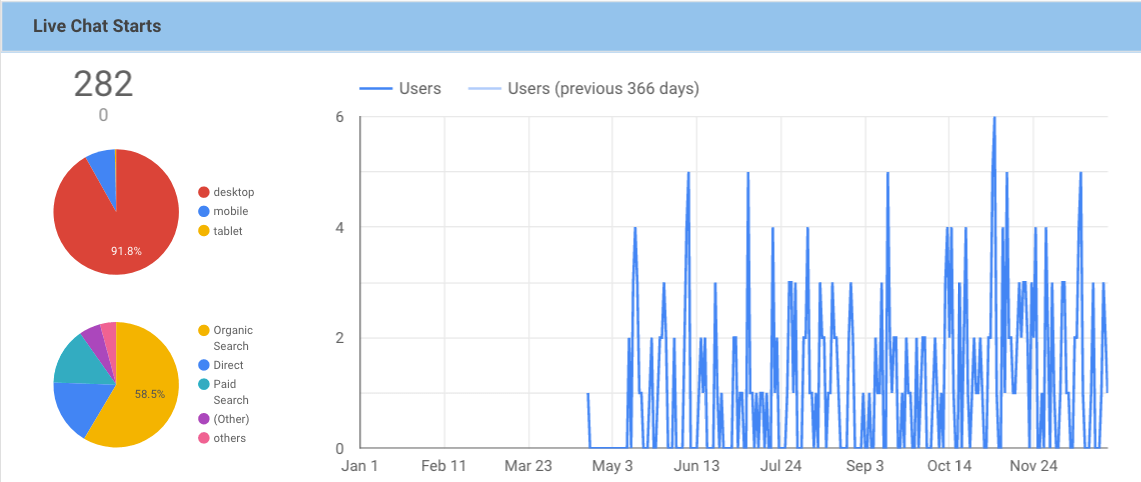 Unique (New) Website Visitors
Company Type: B2B, equipment company, IT Industry
We turned on a live chat function for our client in May of 2020. Since then, 282 live chats have taken place, coming from a variety of sources. Organic (unpaid) search traffic brings in more than half, with the other main sources being direct (mostly from an email newsletter we send out each month) and paid online advertising.
An important note: The revenue gained from our organic search / content efforts is 10 times the cost of those efforts.

Keywords the Company is Found For
Company Type: B2B, equipment company, IT Industry
Thanks to understanding and writing to the Mindset of the customer when he or she sets out to buy—and the client's shift from "sales" to "customer service" people who make it easier for the customer to buy—this client is being found for a record number of keywords. In the results of the searches for these 382 keywords, 100 of the results are appearing on page one of Google.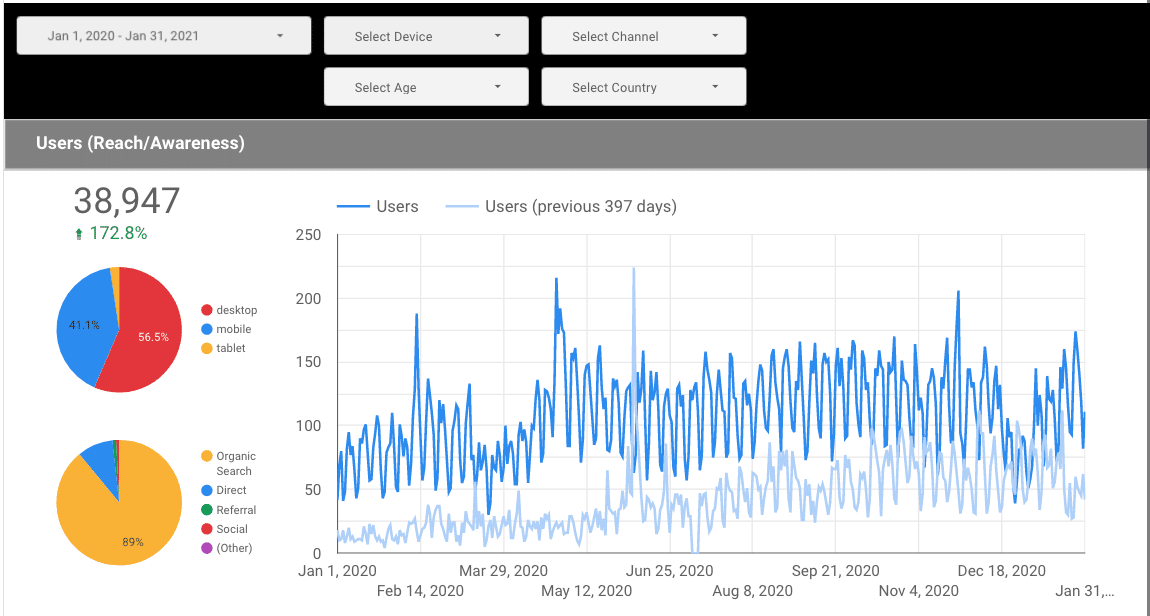 Unique (New) Website Visitors
Company Type: B2B, materials producer, construction industry
We redesigned this company's site in May of 2020. From January 2020 through January 2021, using content marketing and SEO only, we increased new visitors to the site by 173 percent.
About Blue Team Alpha
Blue Team Alpha is an up-and-coming cybersecurity company that provides its clients with expert cybersecurity rescue and protection services. Their Elite Cybersecurity Force™ provides a full range of services including quality customer support to identify an attack, minimize its effects, contain its damage, and identify the origin of the incident 24 hours a day, seven days a week. Attackers now have a seemingly endless list of opportunities to access your accounts, so cybersecurity is essential to a safe and prolific business. Blue Team Alpha's trusted team members have your back.
Zhivago Partners' Website Redesign
When designing Blue Team Alpha's website, we wanted to take into consideration their growing number of cybersecurity services. We put a clear and concise list of all of Blue Team Alpha's cyber protection services right on the home page, so clients can easily scroll through and browse the services that may be right for them. When developing their website, we wanted to keep in mind the desires, concerns, and questions the client may have when considering receiving services from Blue Team Alpha. Our Mindset-Driven Marketing approach allows our clients to get the information they desire at a glance, with several opportunities to contact the client for additional information.
Our Positive Impact
Since launching their website in May of 2020, Blue Team Alpha has benefitted from:
A more modern website that answers buyer questions and personalizes the visitor's experience with a video message from the CEO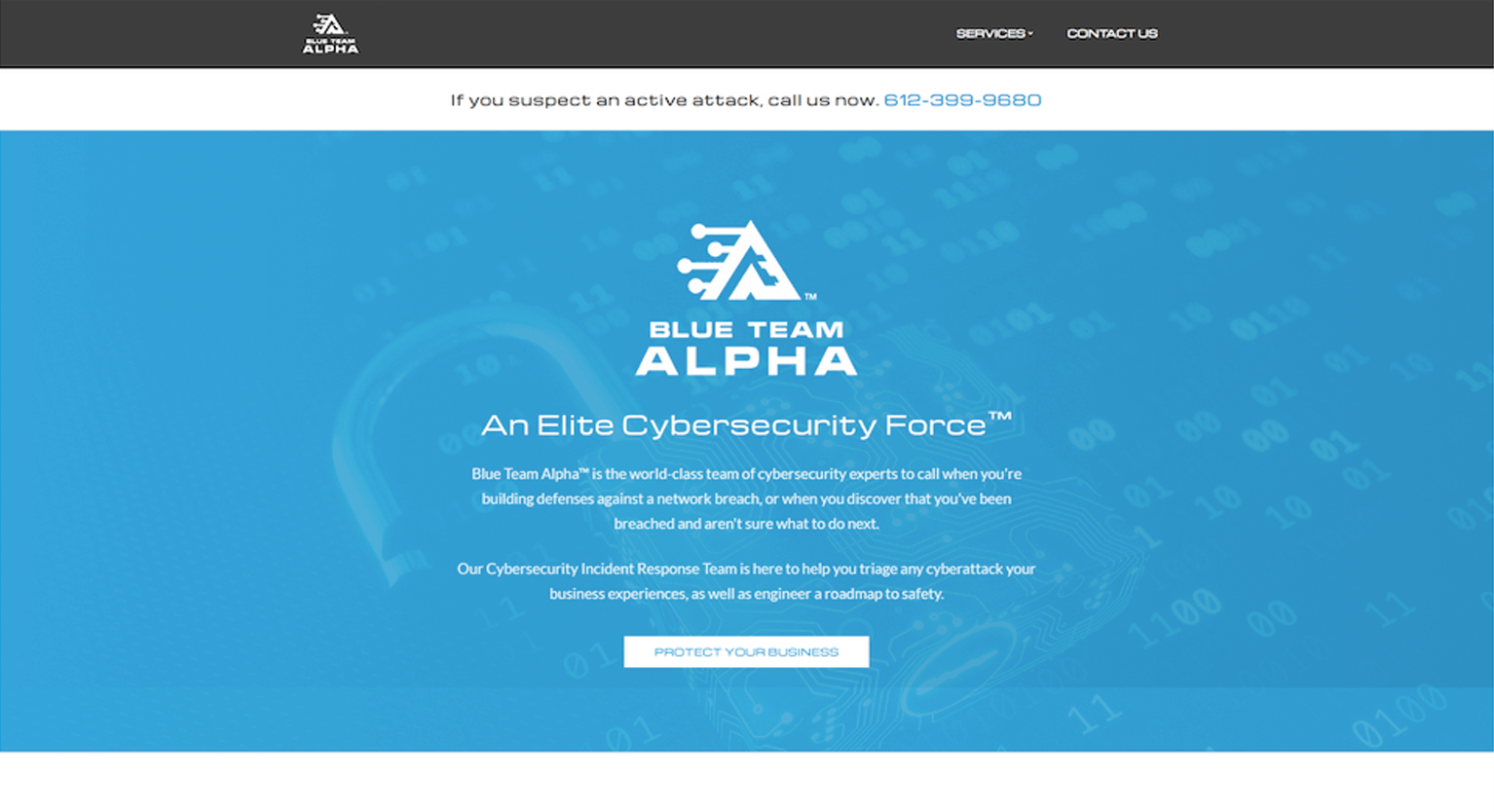 A steady increase in website traffic, including organic-only traffic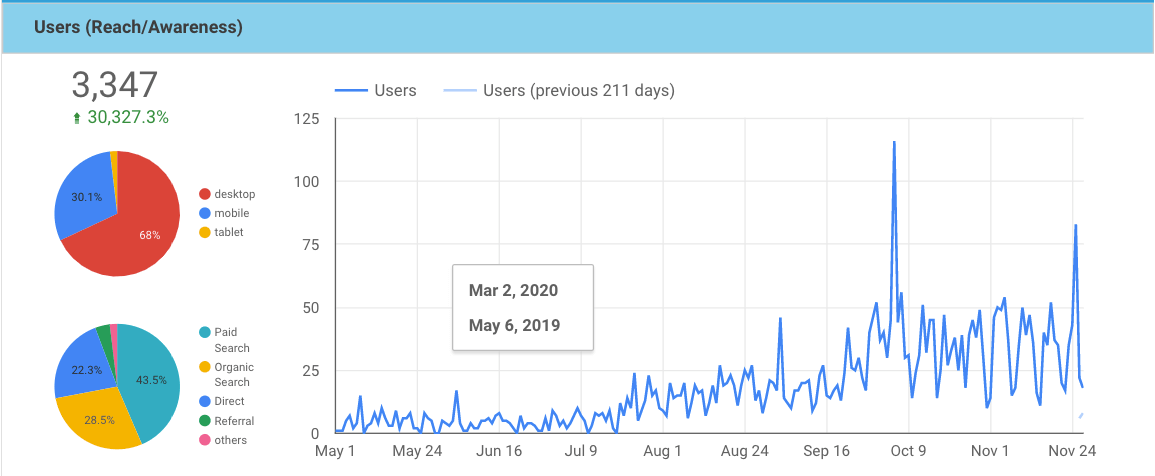 An ads program that brings in 43% of their traffic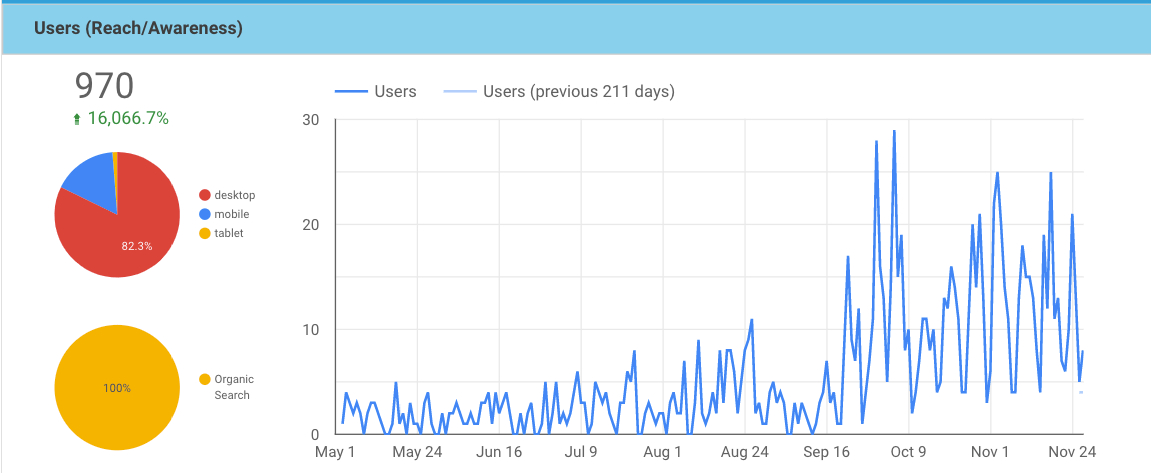 About Cor-Tuf
Cor-Tuf is the exclusive producer of a cost-effective and exceptionally durable Ultra High-Performance Concrete (UPHC) specially formulated for Low-Impact Design. Cor-Tuf's unique UPHC delivers the same strength as steel while being resistant to oxidation and environmental degradation, and offering limitless aesthetic opportunities. Cor-Tuf is truly the future of concrete, offering both a cost-effective and easy-to-use product for the construction industry. They're not only in the news—they're making history with their one-of-a-kind product.
Zhivago Partners' Website Redesign
When redesigning the Cor-Tuf website, Zhivago Partners really wanted to take advantage of the newsworthiness of the company's new high-performance concrete, in terms of its ability to be mixed, transported, and poured just like regular concrete. We are leveraging their ability to capture both onsite and drone video footage during their numerous pours. Using Mindset-Driven Marketing, we answer prospective customers' questions not only on the home page but throughout the site.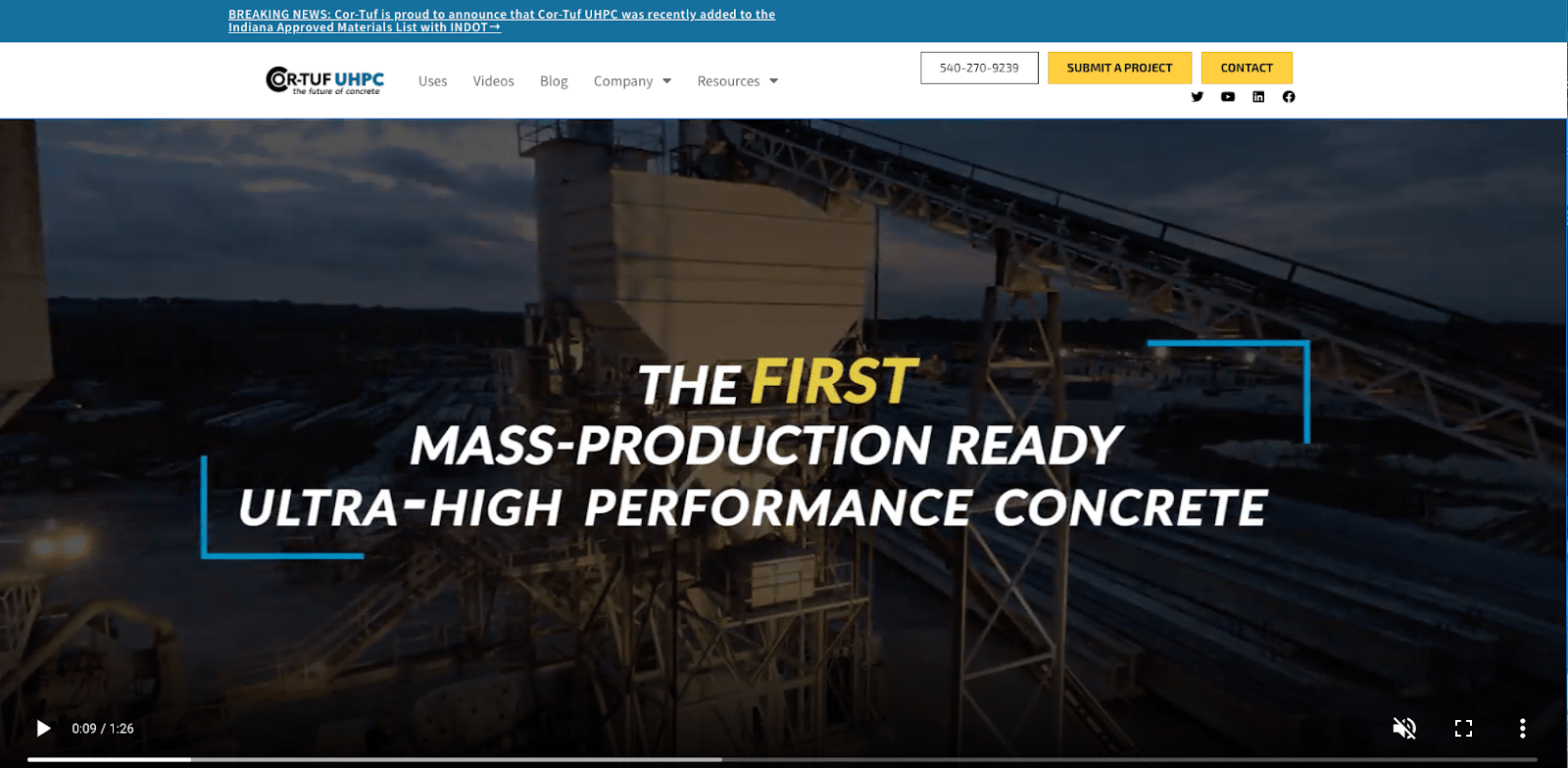 Our Positive Impact
Since launching the redesigned website in 2020, Cor-Tuf has realized these benefits:
Since January 2020, we have seen a 141% increase in traffic to the site from all sources over the previous period, with 89% of that traffic from organic sources
A 169% increase in organic-only traffic compared to 2019
About Northrop & Johnson Newport
This is a company that arranges cruises on luxury charter yachts all over the world. As with all companies in the travel business, this company was severely impacted by the COVID pandemic. However, thanks to a strong online advertising program and excellent content creation—a joint effort between our writers and the client, who has travelled all over the world—we have managed to keep both traffic and orders growing at a solid level.
Our Positive Impact
Thanks to content and advertising efforts, NJCharters.com has benefitted from:
A steady increase in traffic from all sources, even during travel-restricted 2020, and even compared to 2019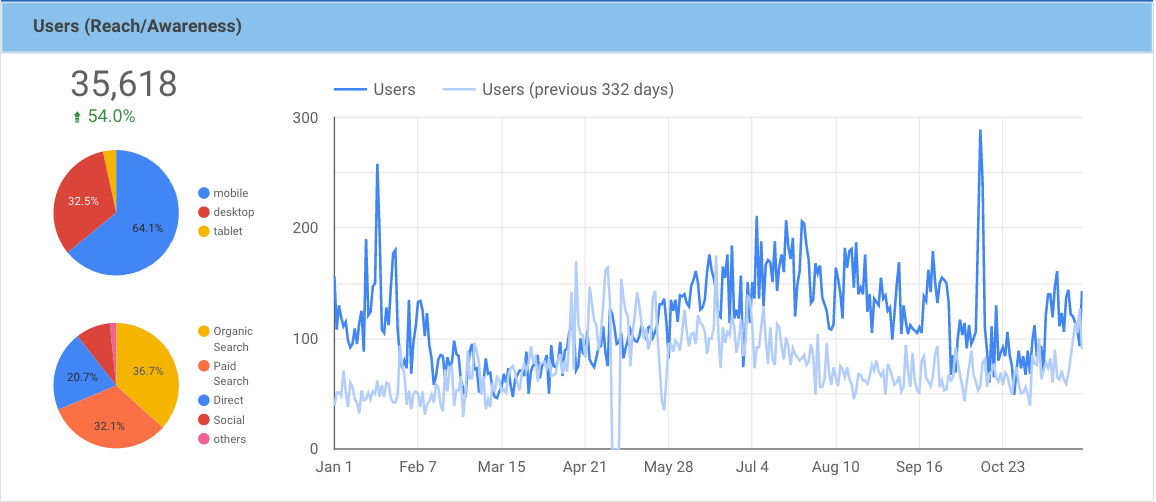 A 57% increase in paid traffic over the previous period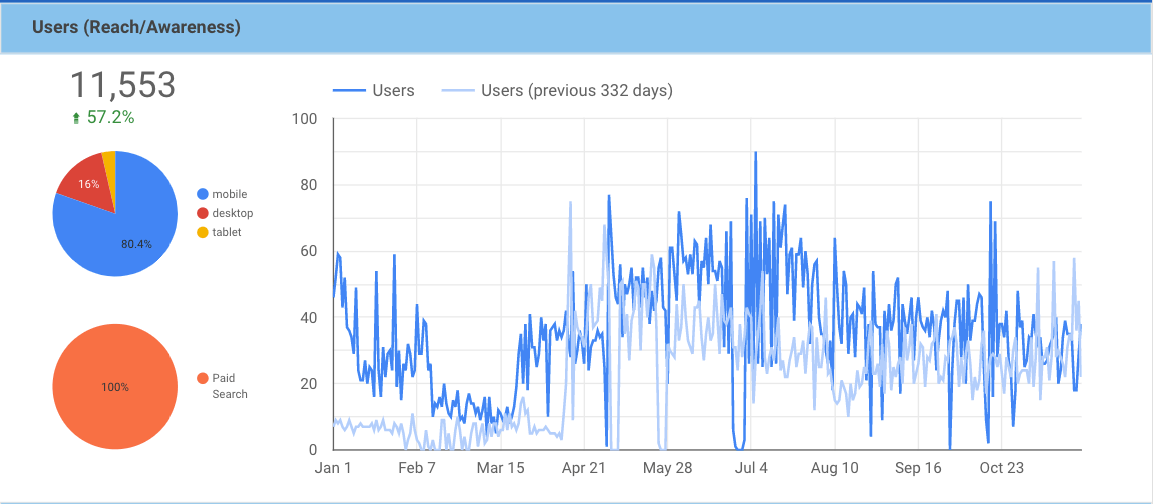 An increase in Chat starts on their site from interested buyers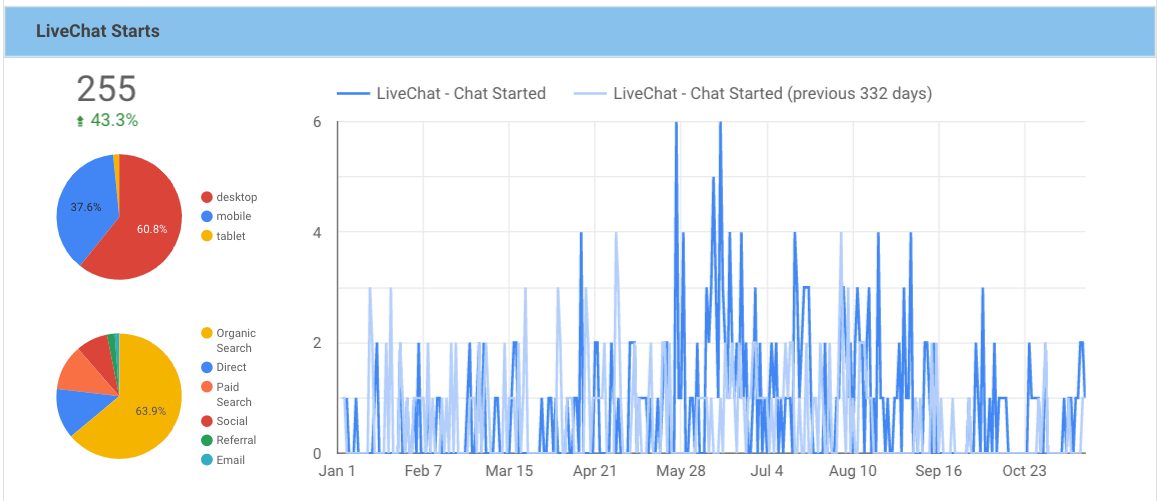 A 48% increase in traffic to their blog overall for the year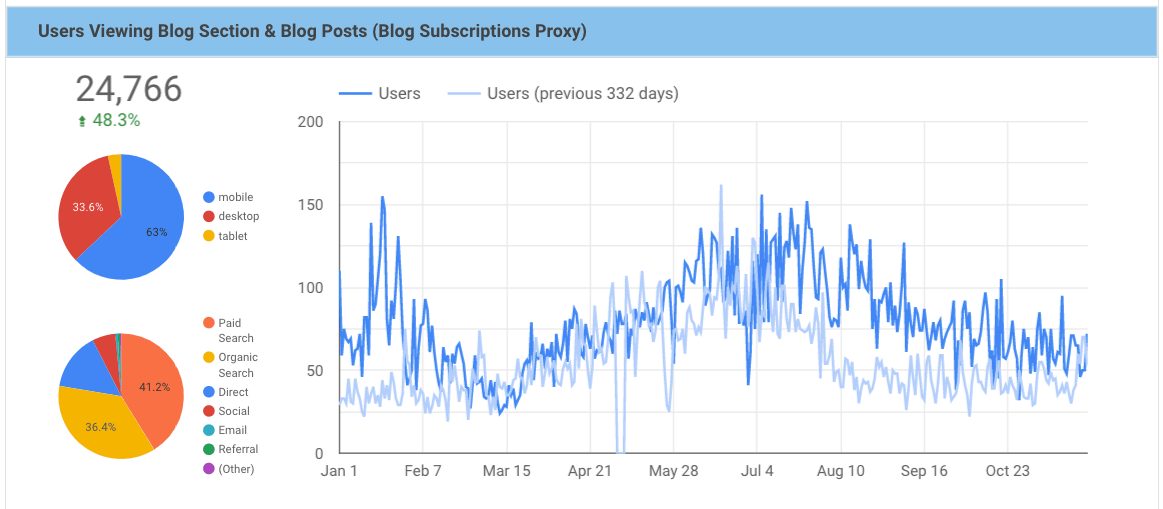 About ServerLIFT
ServerLIFT designs and manufactures lifts specifically designed for data centers. These lifts remove, transport, and install expensive and heavy servers and other data center equipment, able to deliver a 100% safety record. No backs are strained, and no precious equipment is damaged. Moving equipment around is hassle-free. ServerLIFT is the leader in its market.
Zhivago Partners' Website Redesign
The first goal with this website redesign was to show these sophisticated machines in action. We knew from customer research that the minute IT managers saw one of these data center lifts being used, they wanted one. They could immediately see for themselves how much easier using this lift would be than to try to manually lift a 300-pound server, or using a flimsy lift that wasn't designed for the purpose. We have also worked diligently on providing thorough answers to buyer questions on the site, via blogs, pages, deep data, and videos.
Our Positive Impact
ServerLIFT now features numerous videos throughout the site, and is also leveraging live chat and an aggressive content and advertising program to increase its market share worldwide. The company has benefitted from the work we have done via:
An overall increase in revenue attributable directly to marketing efforts, with a 10x return on investment from content, site, and search marketing efforts alone
A site that provides a deep amount of relevant information to data center managers who are looking to reduce manual lifting of equipment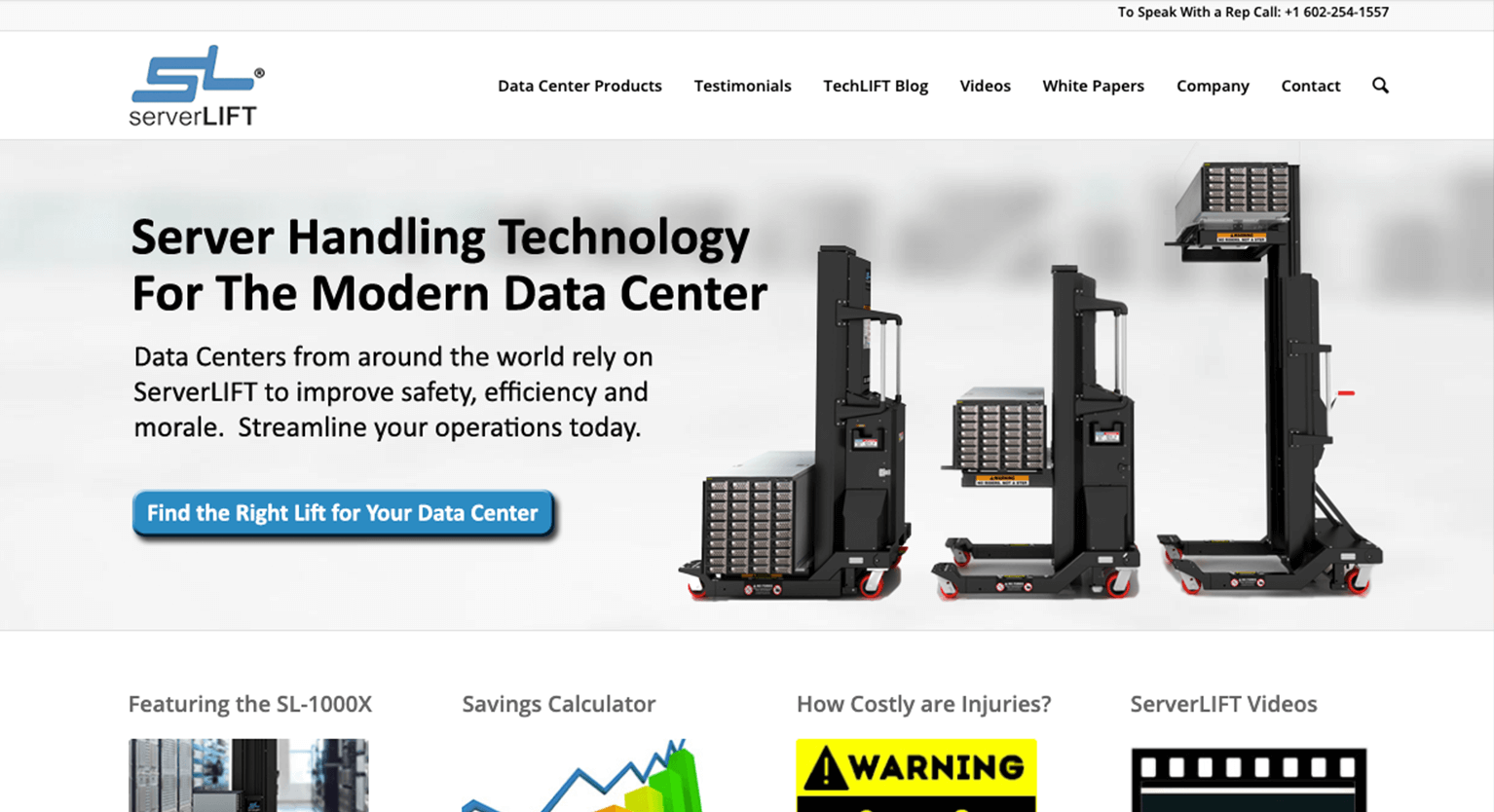 A steady increase in traffic from all channels, with 44% of that traffic coming from organic search
Solid results from live chat conversations since we took chat live in the spring of 2020, with 59% of that traffic coming from organic search